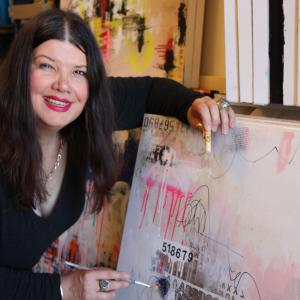 Lorette C Luzajic
Artist member since 2018
Pro
Toronto , Ontario
Lorette's mixed media paintings have been collected in more than 30 countries worldwide, including Canada, USA, Japan, Germany, Peru, Israel, Tunisia, Belgium, Italy, France, Estonia, Saudi Arabia, Australia, Puerto Rico, Mexico, Qatar, Netherlands, Portugal, Spain, and beyond. They hang in collections alongside originals by Miro, Erte, Dubuffet, Ellsworth Kelly, Jim Dine, Jane Ash Poitras, and Benjamin Chee Chee.
"A superhuman effort to coalesce the imaginative world." Moray Mair, Mutant Space Arts
"Luzajic, like Wonder Woman, is her own institution." Paul Robinson, Blog Critics
"Queen of the fantastic." Carrie Shibinsky, Art Bomb Daily
"I am driven by eclectic curiosity, and by the joy of juxtaposition. My work is a curiosity cabinet and an apothecary of magic potions and spells. It is poetry, and a surreal dream. It is the frantic pace of the city and the magnificent silence of the night. It is about love and death and the sacred and inane, and the absurdity and beauty in all things."
Compared to Rauschenberg, Schwitters, and Basquiat, and inspired by Warhol, Joseph Cornell, Robert Motherwell, and Antoni Tapies, Lorette C. Luzajic wears her influences on her sleeve. Appropriating relentlessly from art history, advertising, music, poetry, fiction, culture, religion, and travel, she plunders everything but creates work that is original and entirely her own.
Lorette writes, "A collagist is always looking, always deconstructing and reconstructing. From dentist waiting room magazines to church hymnals to art history masterpieces at the museum to nightclub flyers, my mind is constantly snipping, juxtaposing, discovering, experimenting, replacing, gluing over, scraping back layers, recontextualizing."
Lorette's use of materials reflects the same montage quality as the varied concepts that inspire her. She uses acrylic paint, gouache paint, watercolour, spray paint, ink, fabric paint, chalk pastel, oil stick, oil pastel, crayons, pencil crayons, graphite, found papers, found photographs, found images, house paint, plaster, silicone, pen, markers, cosmetics, glues, stickers, and any other media she can incorporate.
Lorette studied for and received a Bachelor of Applied Arts degree in journalism, but went on to focus on creative work in visual art, photography, poetry, and writing about art. She is the editor of The Ekphrastic Review at www.ekphrastic.net, a journal dedicated exclusively to literature inspired by visual artwork, and has published hundreds of poems and stories in nearly 200 magazines, journals and blogs. She teaches workshops on ekphrastic writing and on creativity with mixed media. Her visual art shows regularly at home in Toronto, Canada, including at the Spoke Club, the Gladstone Hotel, the Ritz Carlton, the Toronto Outdoor Art Exhibition, Scotiabank Contact Photography Festival, the Toronto Artist Project, Hashtag Gallery, Project Gallery, and the Royal Ontario Museum. She has also shown work further afield, including Brisbane, Bristol, Edinburgh, Los Angeles, India, Tunis, and more.
In 2017, she participated in an international artists symposium in Tunisia, working to create paintings for the Ministry of Culture and to show in two exhibitions in Tunis and Hammamet. She then went to Mexico for a duet exhibition at Le Cirque Galeria in Merida, Yucatan and a number of group shows at other venues. In 2018, she won $5000, first place for a painting, from Maple Leaf Sports and Entertainment. In 2019, her artwork was used in ad ad campaign for Carrera Y Carrera diamonds, a century old luxury jewelry company based in Madrid. In 2021, she was a juror for the international Boynes Emerging Artist Awards out of Australia.
Lorette is also a writer and editor and her favourite subject is art and art history. She wrote a regular column on Wine and Art at Good Food Revolution, Canada's most widely read food blog, and now writes Eat Play Rove, a column on history, art, and travel through culinary ingredients. She is the founding editor of The Ekphrastic Review, a journal showcasing global literary talents and devoted entirely to writing inspired by visual art. She recently released Winter in June, and Pretty Time Machine, collections of prose poems and small stories inspired by paintings. Her creative writing has earned her a Best Microfiction nomination, a Best Small Fictions nomination, an Ontario Arts Council grant, four Pushcart Prize nominations, and four Best of the Net literary nominations, where she was a finalist in 2019. She teaches and speaks on art appreciation and writing poetry and fiction from visual art.
www.mixedupmedia.ca